JS 237APR / JS 2310APR2 PET. HEAVY DUTY STRAPPING BAND MAKING MACHINE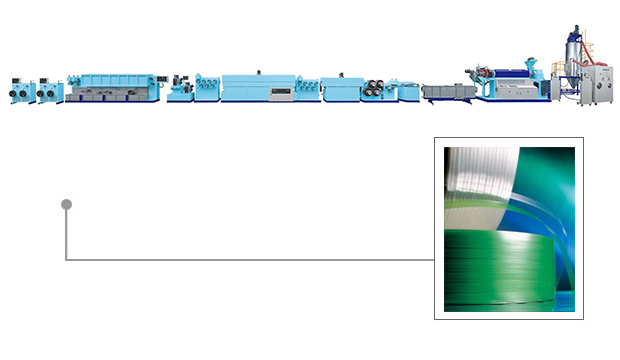 Get the maximum production from JUMBO STEEL PET Band making Machine. This machine produces band widths of 9.5-19MM. Production speed of up to 120 meters per minute for each line. The JS 237APR is simple to run and requires minimal training. If increasing your PET band production is your goal, come to JUMBO STEEL.
JUMBO STEEL's JS 237APR ,JS 2310APR2 has all the very latest technology for increased productivity in PET strapping band production. This newly designed machine provides faster production and superior product.
Quality Features For Outstanding Performance :
Extruding output range: 40 - 100 kgs/hr or 80 - 220 kgs/hr.
Band width: 9.5 -19mm.
High precision band width +/- 0.5mm.
Entire machine employs direct drive for low noise running.
Gears are hardened and precision ground for quiet running performance.
SACMI screw is nitrogen treated, precision ground, and stress relieved.
SACMI barrel is nitrogen treated, precision ground, and stress relieved.
#304 stainless steel cooling water tank.
Separate adjustment for winding torque and running speed ensures uniformity of band.
Stretching unit is all-gear driven with oil bath lubrication for stability, quiet running and long service life.
WINDING UNIT
The winding unit is driven by a DC torque motor, featuring torque adjustment.
The buzzer sounds when the preset length of band is reached.
Changing the gears conveniently changes the winding width.
Aluminum winding rollers.
Choice of 200 or 400mm core bobbin.

PRE-HEAT STRETCHING UNIT
The machine uses electric heating to quickly achieve high temperature.
The four stretching rollers are individually driven, and heated for efficient stretching.
Stretching speed is controlled by a frequency inverter for maximum stability.

EMBOSSING ROLLER
The embossing rollers are manufactured from SKD11 material,
vacuum heat treated for superior hardness and maximum wear resistance.
Embossing depth is pneumatically adjusted with indication reader for accurate reading.
Separate motor drive.

MAIN CONTROL PANEL
The temperature for the barrel, screw, and die are separately displayed
on the main control panel.
Temperature can be preset.

JS 2310APR2
Hydraulic screen change.

JS 2310APR2
2 layer straightening operation extends heating time,
ensuring the stability of bands and superior tensile strength.
Hot air circulation provides for a more efficient heating solution.
Equipped with a water cooling tank for upgrading cooling and stiffening performance.

Outstanding dehumidifying performance ensures constant band quality.
DEHUMIDIFYING DRYER
The dehumidifying dryer lowers the moisture content below 0.2%
to achieve the utmost performance from production materials.
The dryer prevents such problems as cracking, streaking, bubbles,
flow marks, poor transparency, etc., which are all caused by incompletely dry resin.
OPTIONAL EQUIPMENT :
Water chiller
Tensile Tester
CHILLER

Drying System

Tensile Tester
CY-6516

Micro-Computer Tensile Tester
CY-6040AB
SPECIFICATIONS :
MODEL
JS 237AP
JS 2310AP2
Feature
Material
PET (IV 0.8 and up)
PET(IV 0.8 and up)
Quantity of Line
1
2
Layflat Width
mm
9.5 / 13 / 16 / 19
9.5 / 13 / 16 / 19
Extruding Output Range
kg/hr
40 - 100
80 - 220
Extruder
Screw
Ø75
Ø100
Screw L/D
27 : 1
27 : 1
Driving Motor
hp
AC 50 HP + Inverter
AC 75 HP + Inverter
Heater Capacity
kw
67
101
Auto Temperature Controller
sets
6
10
Quenching Equipment
Stainless Steel Quenching Bath
set
1
1
Water Removal Device
Water Removal Air Blower
hp
2 HP x 1 set
2 HP x 2 set
Pre-heat Unit
Take Up Roller
mm
Ø213 x 1pc
Ø213 x 3pc
Motor
hp
1 HP (Inverter) x 1 set
2 HP (Inverter) x 1 set
Roll Dimension, Stainless Steel
mm
Ø510 x 4 pcs
Ø510 x 4 pcs
Driving Motor
hp
3 HP (Inverter) x 1set
3 HP (Inverter) x 1set
Speed Range
m/min
12 x 24
12 x 24
Temperature Controller
sets
4
4
Stretching Unit No. 1
Heating Controller
set
1
1
Temperature Controller
set
1
1
No. of Roll
pc
5
7
Driving Motor
hp
10 HP (Inverter)
20 HP (Inverter)
Speed Range
m/min
50 - 120
50 - 120
Disco
set
1 (with cooling system)
1 (with cooling system)
Stretching Unit No. 2
Heating Controller
set
1
1
Temperature Controller
set
1
1
Roll Dimensions (Stainless Steel)
mm
Ø213
Ø213
NO. of Roll
pc
5
7
Speed Range
m/min
50 - 120
50 - 120
Air Compressor
hp
1 HP x 1 set
1 HP x 1 set
Embossing Unit
Embossing Roller
set
1 (Pneumatic type)
1 (Pneumatic type)
Motor
hp
DC torque 3 hp
DC torque 3 hp x 2
Thermo Setting Unit
Heating Oven
set
1
1
Temperature Controller
set
1
1
Stainless Quenching Batch
set
1
1
Water Removal Air Blower
set
2 HP x 1
2 HP x 2
Take Up Unit
Motor
hp
DC Torque 3 hp x 1
DC Torque 3 hp x 2
Roll Dimension
mm
213 x 1 pc
213 x 2 pc
Winding Unit
No. of Spindle
pc
2
4
Motor
hp
DC Torque 1 HP x 2
DC Torque 1HP x 4
Winding Width Range
mm
152, 200
152, 200
Core Bobbin
mm
Ø200, Ø400
Ø200, Ø400
Others
Total Electricity
kw
165
250
Machine Weight
ton
14
20
Machine Dimension
m
28.8 (L)
35.16 (L)
* All specifications and design characteristics are subject to change without prior notice.