JS 165 HIGH SPEED FLEXIBLE DRINKING STRAW BENDING MACHINE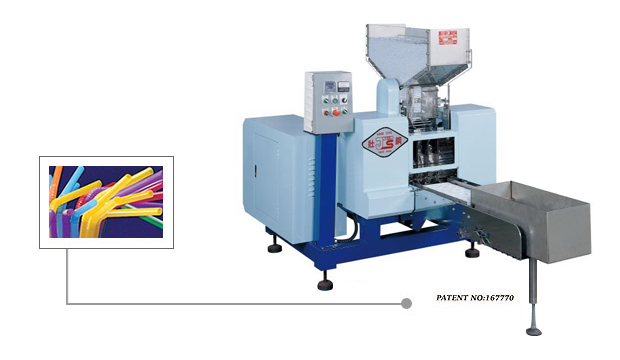 PRODUCTION CAPACITY : 600-700 pcs/min
CYCLIC PRODUCTION : 45 pcs/cycle
This newly designed drinking straw bending machine dramatically increases productivity. Compactly constructed for reduced space requirments, this high efficiency machine provides user-friendly automatic operation.

FEATURES :
CE certified
High production rate of 600-700 pcs/min
Automatic product counting
Product quantity pre-set.
Movable emergency stop
Automatic machine stop in the event of straw jamming
Higher speed for more efficient straw bending :
Continuous automatic production, ease of operation

FEEDING
Employs brush feed design for convenient continuous infeed.
The rotary production design provides a high production rate.

CORRUGATION
Surface molding design provides maximum consistency of product.
The plate is cam driven for continuous feed.

MOLDING AND TRANSPORT
The link chain conveyor allows for continous production.
Production capacity up to 45 pcs
per revolution with compact structure.
The molding parts are transport unit manufactured from aluminum alloy,
lightweight and high speed.
The molding shaft employs linear motion guide for smooth motin.
SPECIFICATIONS :
MODEL
JS 165
Main Specification
Output
600 - 700 pcs / min
Drinking Straw Inside dia.
Ø4.8, Ø5.6, Ø6.0 mm
Drinking Straw Length
200 - 250 mm
Drinking Straw Thickness
0.16 - 0.18 mm (Ø0.03 mm)
Front-Section Length Of Finished Drinking Straws
50 mm
Folded Patterns
10 sections
Length Of Finished Drinking Straws
190 - 240 mm
Other Machine Specifications
Applied Voltage
220 / 380 V, 50 / 60 Hz, 3 PHASE
Main Motor
2 HP + Inverter
Electricity Consumed
1.5 KW
Automatic Counter
1 set
Automatic Emergency Stop Equipment
1 set
Conveyor
1 set
Machine Dimensions
1500 x 2500 x 1550 mm
Machine Weight
1200 kgs
* All specifications and design characteristics are subject to change without prior notice.